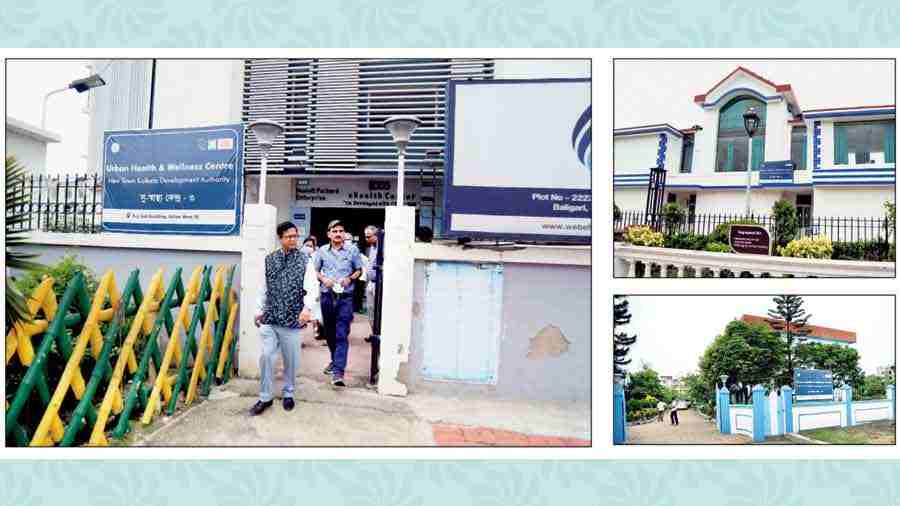 This August, the New Town Kolkata Development Authority (NKDA) has started five Urban Health and Wellness Centres (UHWC) across New Town.
These centres will serve the residents of New Town and the peripheral villages of the township, offering the following facilities —
Outpatient department
Routine child immunisation (to be undertaken every Wednesday)
Health check-up facilities for pregnant mothers
Non-communicable disease screening
 Wellness activities like nutrition counselling, guidance on basic physical activities etc.
At present, each UHWC is manned by an auxiliary nurse midwife. Doctors will periodically visit the UHWCs.
"These have come up as part of the National Urban Health Mission. These health utilities will focus on detection and treatment of seasonal outbreaks like dengue and malaria, mother and child wellness, testing, immunisation, small medicine prescription etc. They will function as a first level of screening and will work on the lines of the sub-centres that exist in the rural areas," said NKDA chairman Debashis Sen.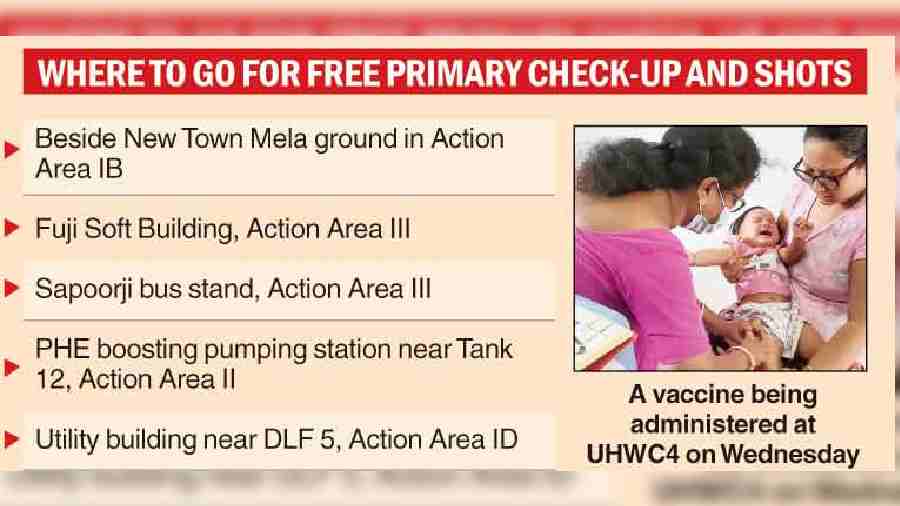 The old urban primary health centre housed in the first floor of the Utility Building in Action Area 1D will be scaled down and its instruments distributed to the new centres. "It was located in a lane near Tata Medical Center and behind DPS Newtown and was difficult to trace," said Sen. A UHWC is operating in the ground floor of the building.
"But the new health utilities are located in central positions," Sen pointed out. The two-storeyed structure at a corner outside the New Town Mela Ground, that used to house the Mehmaan restaurant, has been converted into an UHWC. "The lease of the restaurant had run out," an official said. Empty rooms inside the Sapoorji bus terminus, diagonally opposite the Sukhobristi complex in Action Area III, are being used to run another UHWC.
Another has come up at Webel's Fuji Soft Building in Action Area II. The PHE building that housed the first NKDA safe house and was used temporarily for Covid vaccination in Action Area II near Tank 12 is being used as well.
The centres will remain open from 10.30am to 4pm on all days except Sundays.
Routine child immunisation programmes, that used to be held at the old NKDA office, at the PHE Utility Building near Akhankha More and in the booster pumping station building opposite the NKDA's Rapid Antigen Test centre, will now be done at these five centres.
"All these will be guided by the health department and managed by NKDA," Sen said.

https://www.telegraphindia.com/my-kolkata/news/new-town-gets-5-centres-for-primary-health-screening/cid/1882497